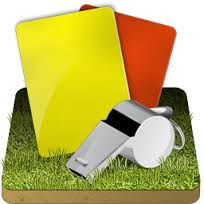 Have you or your child ever expressed an interest in becoming a referee? If so, you are in luck, as an Entry Level Referee class has been scheduled for December 3rd ,4th, 10th and 11th from 6-9 pm at La Plata High School. This is a great opportunity for your child to earn some money, have a better understanding of the rules of the game, and it is right in our back yard for once. It is mandatory to attend all 4 sessions and the cost to attend is $60. If interested, please email Mr. Mike Tredick, the State Referee Instructor at mtkick@aol.com . You will need to provide your child's name and date of birth, as well as parent name, email and phone number. Mr. Tredick will then contact you and instruct you on how to sign up and pay to attend. CASRA, the Referee Association, is always in need of new, energetic refs. Please think about it and sign up today!
http://www.casrareferees.com/new-referees/how-do-i-become-a-ussf-referee
Please contact Mike Tredick directly with any questions.